Education & Licensure
NCARB Guide to Architecture Careers for high school students: published by AIA, AIAS, ACSA, NAAB, NCARB, NOMA.
---
ARCHCareerGuide.com provides resources such as outlining the path, links to valuable websites including architecture programs, career information, a suggested reading list for aspiring architects.
---
National Architectural Accrediting Board (NAAB): information on accredited architecture education programs.
---
Chicago Architecture & Design College Day - This day is sponsored by the Consortium for Design and Construction Careers, a group of individuals, colleges, and allied associations who are joined together to assist students interested in entering the fields of Architecture, Interior Design, Construction Management, and Landscape Architecture.
---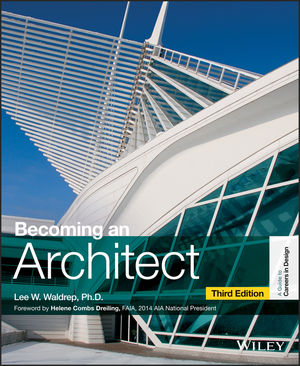 Becoming an Architect: A Guide to Careers in Design, by Lee W. Waldrep, Ph.D., is the definitive guide to obtaining the skills and education necessary to be an architect. This hands-on book features complete coverage of the three central components of becoming an architect--education, experience, and exam. It guides the reader through the major hurdles of graduating with an accredited professional degree in architecture, gaining experience through an internship, and passing the Architect Registration Examination (ARE).
---
The Survival Guide to Architectural Internship and Career Development by Grace Kim, AIA ,is a concise, helpful guide to understanding the choices and decisions you will confront on the road from student to practitioner. Whether you are currently an architecture student, starting the internship process, taking the registration exams, or beginning your own firm, this book demystifies the process for you.
---
ACCREDITED Architecture Schools in ILLINOIS
American Institute of Architecture Students (AIAS): organization promotes excellence in education, training and practice and organizes students to advance the art and science of architecture. Web site includes links to local chapters, design competitions, upcoming lectures, CRIT magazine, and educational resources.
---
Licensing, AXP and ARE, Accreditation
---
State of Illinois, Department of Financial & Professional Regulation (IDFPR) - Architect page: Architecture Practice Act, Administrative Rules, Licensing Board and newsletter, applications and renewal, contact information changes, design firm registration, how to reach the department.
---
National Council of Architectural Registration Boards (NCARB): information on Architect Experience Program (AXP), Architect Registration Exam (ARE), reciprocity, certification, paths for foreign architects, continuing education; blog; Think Tank and Re-Think Tank.
---
AIA information for emerging professionals on getting licensed.